Aroma Dried Flower Potpourri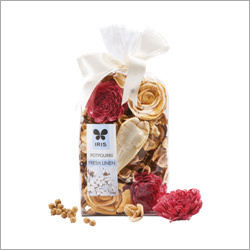 Aroma Dried Flower Potpourri
Product Description
Aroma Dried Flower Potpourri
Every product manufactured by N. Ranga Rao & Sons Private Limited is of the highest quality. One such product is 100-gram Potpourri, which is intended to diffuse a nice smell around the home. This bundle is available from our firm in three different fragrances: Apple Cinnamon, Jasmine, and Lavender. A person's reaction to perfume is varied depending on the scent. An apple cinnamon potpourri is soothing and can instantly improve one's disposition. One hundred grams of organically scented dried plant material are contained in each package. It is possible to empty the pack into a bowl and place it on the centre table in the living room, the dining table, or a cabinet in the bedroom as a centerpiece. People also like to have potpourri in their bathrooms and kitchens so that these two rooms always smell pleasant when they are in there.
"Potpourri is a mixture of dried plant material like leaves and flowers that is spritzed with fragrance oil to emanate a gentle aroma. Over time, it has come to be appreciated as much for its visual appeal, as it is for its alluring fragrance that gently spreads wherever it is placed.


If you feel the fragrance fading, just refresh it with the potpourri refresher oil spray.Energize your space with the colorful and vibrant IRIS Apple-Cinnamon Potpourri! The aesthetic mixture of dried leaves and flower petals, when placed in a decorative bowl, adds a rustic charm to your interiors and envelops your room with the sweet and sharp fragrance of apple-cinnamon. Enchantment in a bowl that enhances your home decor"
HSN :"06049000
GST :18%
Length :10.7
Width: 6.2
height:18.5
Product weight :0.113